Hi,
So this month i brought 11 books and they are ...
On November 3rd i went to The Tower of London and going home a train station was out of power and we had to go through Waterloo and the train was delayed by 70 minutes so i went into Foyles in Waterloo station and brought two books
The World of Ice & Fire, The Untold History of Westeros - George R R Martin.
The never before seen history of Westeros and the lands beyond, the world that inspired the award-winning HBO television series, Game of Thrones.
George R R Martin, in collaboration with Elio M. Garcia, Jr. and Linda Antonsson, has written a comprehensive history of the Seven Kingdoms, featuring the epic battles, bitter rivalries, and daring rebellions that lead up to the events in his bestselling A Song of Ice & Fire series.
Collected within this volume is the accumulated knowledge, scholarly speculation and inherited folk tales of maesters and septons, maegi and singers, including over 170 full-colour illustrations and maps, family trees for the Houses Stark, Lannister and Targaryen, and in-depth explorations of the history and culture of Westeros.
From the Age of Heroes to the coming of the First Men; from the arrival of Aegon the Conqueror with his dragons to the fall of the Mad King, this is the dramatic backdrop to the struggle for power that is played out in George R.R Martin's worldwide bestselling series A Song of Ice & Fire and HBO's award winning Game of Thrones.
My True Love Gave To Me - Edited By Stephanie Perkins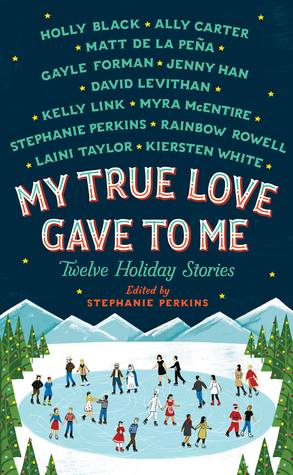 On the first day of Christmas, my true love gave to me ...This beautiful collection features twelve gorgeously romantic stories set during the festive period, by some of the most talented and exciting YA authors writing today. The stories are filled with the magic of first love and the magic of the holidays.
Then of course when a new Cassandra Clare book is released i get it straight away
The Bane Chronicles - Cassandra Clare
The perfect gift for Shadowhunters. This gorgeous illustrated hardback brings 10 stories about immortal warlock Magnus Bane together for the first time, along with a bonus never-before-seen tale. A fan-favourite character from Cassandra Clare's Shadowhunter Chronicles, Magnus features in The Mortal Instruments, The Infernal Devices, Tales from the Shadowhunter Academy and the movie of City of Bones. Magnus will never be able to tell all of his tales. No one would believe him. But these stories shed a little light on his often inscrutable character. They are stories he probably wishes had never got out.
Then my Nan brought me a book
To Defy a King - Elizabeth Chadwick
The adored and spirited daughter of England's greatest knight, Mahelt Marshal lives a privileged life. But when her beloved father falls foul of the volatile and dangerous King John, her world is shattered. The king takes her brothers hostage and Mahelt's planned marriage to Hugh Bigod, son of the Earl of Norfolk, takes place sooner than she expected. Mahelt and Hugh come to care for each other deeply, but Hugh's strict father clashes with the rebellious Mahelt. When more harsh demands from King John threaten to tear the couple's lives apart, Mahelt finds herself facing her worst fears alone, not knowing if she-or her marriage-will survive.
Next i only brought this book because it was Hardback and 1.99 and i was going to need to buy this book anyway because i will probably be doing a book to movie review next year
Fifty Shades of Grey - E l James
When literature student Anastasia Steele goes to interview young entrepreneur Christian Grey, she encounters a man who is beautiful, brilliant, and intimidating. The unworldly, innocent Ana is startled to realise she wants this man and, despite his enigmatic reserve, finds she is desperate to get close to him. Unable to resist Ana's quiet beauty, wit, and independent spirit, Grey admits he wants her, too—but on his own terms.

Shocked yet thrilled by Grey's singular erotic tastes, Ana hesitates. For all the trappings of success—his multinational businesses, his vast wealth, his loving family—Grey is a man tormented by demons and consumed by the need to control. When the couple embarks on a daring, passionately physical affair, Ana discovers Christian Grey's secrets and explores her own dark desires.
My Dad lives about an hour away in Buckinghamshire and we went for lunch as we were waiting i went next door into a charity shop because all the books were 50p so i brought 4 books
If You Could See Me Now - Cecelia Ahern
Elizabeth Egan's life runs on order: Both her home and her emotions are arranged just so, with little room for spontaneity. It's how she counteracts the chaos of her family -- an alcoholic mother who left when she was young, an emotionally distant father, and a free-spirited sister, who seems to be following in their mother's footsteps, leaving her own six-year old son, Luke, in Elizabeth's care. When Ivan, Luke's mysterious new grown-up friend, enters the picture, Elizabeth doesn't know quite what to make of him. With his penchant for adventure and colourful take on things large and small, Ivan opens Elizabeth's eyes to a whole new way of living. But is it for real? Is Ivan for real?
The Gates of Rome - Conn Iggulden
The year is 53 B.C. Fresh from victory in Gaul, Julius Caesar leads battle-hardened legions across the Rubicon river-threatening Rome herself. Even the master strategist Pompey is caught unprepared by the strike, and forced to abandon his city. The armies of Rome will face each other at last in civil war, led by the two greatest generals ever to walk the seven hills. Thus begins Conn Iggulden's towering saga of Julius Caesar as he approaches his final destiny--a destiny that will be decided not by legions but by his friend Brutus and an Egyptian queen named Cleopatra, who will bear his only son....
For Caesar, the campaign against Pompey will test his military genius and his appetite for glory to their limits, as the greatest fighting machine the world has ever seen divides against itself in a bloody conflict that will set brother against brother until victory or death. But for Caesar, another kingdom beckons--a world of ancient mysteries and languid sensuality, where a beautiful, bewitching woman waits to snare his heart.
The Gods of War follows Julius Caesar through politics and passion, ruthless ambition and private grief, and into the corruption of power itself. Those he has loved will play a part in his triumphs--as will the jealousy and hatred of his enemies.
From the spectacles of the arena to the whispered lies of conspirators, Conn Iggulden brings to life a world of monumental drama. And at its heart is one extraordinary friendship--marked by fierce loyalty and bitter betrayal, with dark events shrouded in noble ideals.
The Death of Kings - Conn Iggulden
Book two in the Emperor Series
The Field of Swords - Conn Iggulden
Book 3 in The Emperor Series.
Girl, Online - Zoe Sugg
Under the alias Girl, Online, Penny blogs her hidden feelings about friendship, boys, her crazy family and the panic attacks that have begun to take over her life. When things go from bad to worse, her family whisks her away to New York, where she meets Noah: a gorgeous, guitar strumming American.
Suddenly Penny is falling in love - and capturing every moment of it on her blog.
But Noah has a secret too. One that threatens
to ruin Penny's cover - and her closest
The Pointless Book - Started by Alfie Deyes Finished by You
Brought to you but youtube vlogger Alfie Deyes, THE POINTLESS BOOK is the ultimate addition to his YouTube channel - a weird and funny video-diary of fun, challenges and nothingness: bake a cake in a mug; take part in the people-watching challenge; create a time capsule; diaries a week of your life, and learn to make origami. Fully illustrated and packed with a host of games, activities and pranks, Alfie invites you to join his online following as he challenges you to complete your journal of pointlessness to do virtually nothing with pride.
And that was all the books i brought in the month of November