Hiya so this is by tbr for the month of November
Re-Reads
Blood Prophecy - Alyxandra Harvey (Book #6 in The Drake Chronicles)
Blood Prophecy is the last book in the Drake Chronicles everything in the last two book come to head in this
book, we get the answers we have been wanting for ages and in the battle for power who will survive.
Out Of Sight, Out Of Time - Ally Carter (Book #5 In The Gallagher Girls Series)
After running away Cammie has to face the consequences of her actions but now who was after her no longer needs her alive will they find out why they needed her before its too late.
United We Spy - Ally Carter (Book #6 In The Gallagher Girls Series)
In the sixth and final book we get so many answers to questions from all of the books, Cammie's relationship with her friends, her mum, and her boyfriend are tested in this climactic ending to an amazing series.
Next i have about 200 pgs left of
In The After Light - Alexandra Bracken (Book #3 in The Darkest Minds Trilogy)
i read most of this book in October but didn't finish it i don't want to say much because i don't want to spoil it for anyone who hasn't read the other books in this series.
Next are a couple of books i didn't get to last month and they are ...
Synopsis
In what may be Dickens's best novel, humble, orphaned Pip is apprenticed to the dirty work of the forge but dares to dream of becoming a gentleman — and one day, under sudden and enigmatic circumstances, he finds himself in possession of "great expectations." In this gripping tale of crime and guilt, revenge and reward, the compelling characters include Magwitch, the fearful and fearsome convict; Estella, whose beauty is excelled only by her haughtiness; and the embittered Miss Havisham, an eccentric jilted bride
A Breath Of Frost - Alyxandra Harvey (Book #1 In The Lovegrove Legacy)



Synopsis
In 1814, three cousins—Gretchen, Emma, and Penelope—discover their family lineage of witchcraft when a binding spell is broken, allowing their individual magical powers to manifest. Now, beyond the manicured gardens and ballrooms of Regency London, an alluring underworld available only to those with power is revealed to the cousins. By claiming their power, the three cousins have accidentally opened the gates to the underworld.

Now ghouls, hellhounds—and most terrifying of all, the spirits of dark witches known as the Greymalkin Sisters—are hunting and killing young debutante witches for their powers. And, somehow, Emma is connected to the murders…because she keeps finding the bodies.

Can the cousins seal the gates before another witch is killed…or even worse, before their new gifts are
Grave Mercy - Robin LaFevers (Book #1 In The His Fair Assassins Trilogy)
Synopsis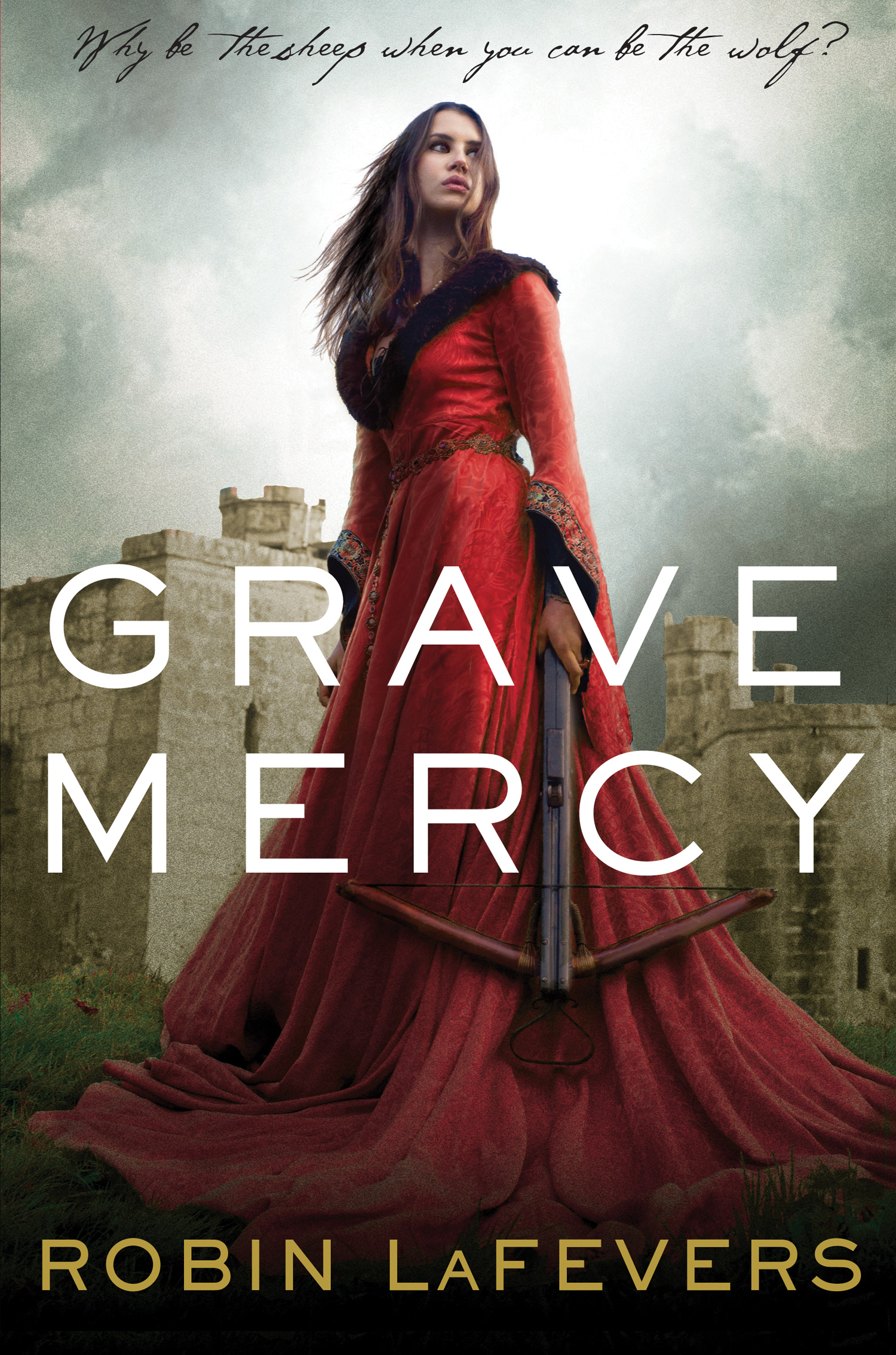 Seventeen-year-old Ismae escapes from the brutality of an arranged marriage into the sanctuary of the convent of St. Mortain, where the sisters still serve the gods of old. Here she learns that the god of Death Himself has blessed her with dangerous gifts—and a violent destiny. If she chooses to stay at the convent, she will be trained as an assassin and serve as a handmaiden to Death. To claim her new life, she must destroy the lives of others.

Ismae's most important assignment takes her straight into the high court of Brittany—where she finds herself woefully under prepared—not only for the deadly games of intrigue and treason, but for the impossible choices she must make. For how can she deliver Death's vengeance upon a target who, against her will, has stolen her heart?
Trinity - Conn Iggulden (Book #2 In The Wars Of The Roses Series)
Trinity is the second book in the Wars Of The Roses series the first being Stormbird which was a very riveting read and this book mainly focus's on Henry VI of Lancaster and Richard Plantagenet Duke of York. If you love historical fiction give this series a go.
The Luxe - Anna Godbersen (Book #1 In The Luxe Series)
Pretty girls in pretty dresses, partying until dawn. Irresistible boys with mischievous smiles and dangerous intentions. White lies, dark secrets, and scandalous hookups. This is Manhattan, 1899. Beautiful sisters Elizabeth and Diana Holland rule Manhattan's social scene. Or so it appears. When the girls discover their status among New York City's elite is far from secure, suddenly everyone--from the backstabbing socialite Penelope Hayes, to the debonair bachelor Henry Schoonmaker, to the spiteful maid Lina Broud--threatens Elizabeth's and Diana's golden future. With the fate of the Hollands resting on her shoulders, Elizabeth must choose between family duty and true love. But when her carriage overturns near the East River, the girl whose glittering life lit up the city's gossip pages is swallowed by the rough current. As all of New York grieves, some begin to wonder whether life at the top proved too much for this ethereal beauty, or if, perhaps, someone wanted to see Manhattan's most celebrated daughter disappear... In a world of luxury and deception, where appearance matters above everything and breaking the social code means running the risk of being ostracised forever, five teenagers lead dangerously scandalous lives. This thrilling trip to the age of innocence is anything but innocent.
In the Houses of Montague and Capulet, there is only one goal: power. The boys are born to fight and die for Honor and—if they survive—marry for influence and money, not love. The girls are assets, to be spent wisely. Their wishes are of no import. Their fates are written on the day they are born.

Benvolio Montague, cousin to Romeo, knows all this. He expects to die for his cousin, for his house, but a spark of rebellion still lives inside him. At night, he is the Prince of Shadows, the greatest thief in Verona—and he risks all as he steals from House Capulet. In doing so, he sets eyes on convent-bound Rosaline, and a terrible curse begins that will claim the lives of many in Verona…

…And will rewrite all their fates, forever.
Synopsis
Young love has always had its challenges, but even so, the world falling apart at its seams is a pretty big obstacle. This stellar collection of YA dystopian tales explores survival of the fittest in terms of love, passion, and humanity. When the survival of the human race is at stake, what will it take for the bond between two people to hold strong together? Featuring some of the most well known and best-selling names of the dystopian genre, as well as the hottest up-and-coming authors, this anthology includes works from Jeanne DuPrau (City of Ember), Kiera Cass (The Selection), William Sleator (Interstellar Pig), Jesse Karp (Those That Wake), Diana Peterfreund (Secret Society Girl), Carrie Vaughn (The Kitty Norville Series), and Carrie Ryan (New York Times bestseller The Forest of Hands and Teeth).


Contents:
Hidden Ribbon by John Shirley
The Salt Sea and the Sky by Elizabeth Bear
In the Clearing by Kiera Cass
Otherwise by Nisi Shawl
Now Purple With Love's Wound by Carrie Vaughn
Berserker Eyes by Maria V. Snyder
Arose from Poetry by Steve Berman
Red by Amanda Downum
Foundlings by Diana Peterfreund
Seekers in the City by Jeanne DuPrau
The Up by Nina Kiriki Hoffman
The Dream Eater by Carrie Ryan
357 by Jesse Karp
Eric and Pan by William Sleator
The Empty Pocket by Seth Cadin
The Forest Of Hands And Teeth - Carrie Ryan (Book #1 In The Forest Of Hands And Teeth Trilogy)
Synopsis
In Mary's world there are simple truths. The Sisterhood always knows best. The Guardians will protect and serve. The Unconsecrated will never relent. And you must always mind the fence that surrounds the village; the fence that protects the village from the Forest of Hands and Teeth. But, slowly, Mary's truths are failing her. She's learning things she never wanted to know about the Sisterhood and its secrets, and the Guardians and their power, and about the Unconsecrated and their relentlessness. When the fence is breached and her world is thrown into chaos, she must choose between her village and her future—between the one she loves and the one who loves her. And she must face the truth about the Forest of Hands and Teeth. Could there be life outside a world surrounded in so much death?
Devoted - Hilary Duff (Book #2 in The Elixir Trilogy)
Since Sage was kidnapped, Clea has no way of knowing if he is alive or dead. And even though she has only just discovered they were soulmates, she feels like a part of her is lost forever. What's worse, she can't even turn to her best friend Ben because every time she looks at him, all she sees is his betrayal.

But waiting for something to happen is not an option, so Clea is ready for action. Suffering through dreams of seeing Sage with another woman, she makes an uneasy alliance with Sage's enemies and sets out to be reunited with Sage...in this life or the next.


Journeys to the end of the world, fantastic creatures, and epic battles between good and evil—what more could any reader ask for in one book? The book that has it all is The Lion, the Witch and the Wardrobe, written in 1949 by Clive Stables Lewis. But Lewis did not stop there. Six more books followed, and together they became known as The Chronicles of Narnia.