Hello all, so this month i plan to read 16 books 4 of which are pre-orders and the rest that are already on my bookshelves so lets start with the Pre-Orders
Queen of Shadows - Sarah J Maas (Book #4 in The Throne of Glass Series)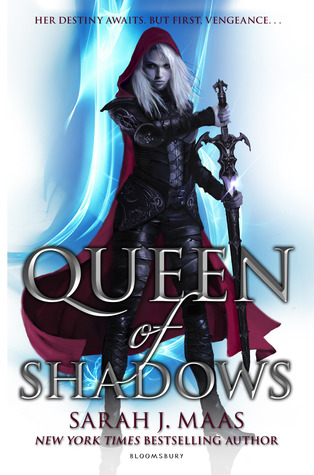 ****SPOILERS ****
Everyone Celaena Sardothien loves has been taken from her. But she's at last returned to the empire—for vengeance, to rescue her once-glorious kingdom, and to confront the shadows of her past . . .

She will fight for her cousin, a warrior prepared to die just to see her again. She will fight for her friend, a young man trapped in an unspeakable prison. And she will fight for her people, enslaved to a brutal king and awaiting their lost queen's triumphant return.

Celaena's epic journey has captured the hearts and imaginations of millions across the globe. This fourth volume will hold readers rapt as Celaena's story builds to a passionate, agonizing crescendo that might just shatter her world.
Forever With You - J Lynn (Book #6 in The Wait For You Saga)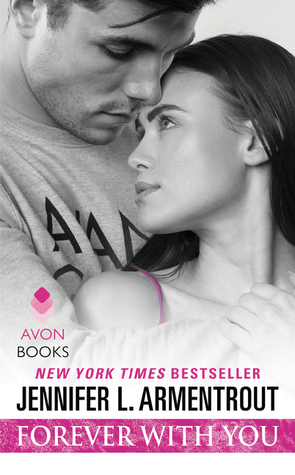 Some things you just believe in, even if you've never experienced them. For Stephanie, that list includes love. It's out there. Somewhere. Eventually. Meanwhile she's got her job at the mixed martial arts training center and hot flings with gorgeous, temporary guys like Nick. Then a secret brings them closer, opening Steph's eyes to a future she never knew she wanted—until tragedy rips it away.

Nick's self-assured surface shields a past no one needs to know about. His mind-blowing connection with Steph changes all that. As fast as he's knocking down the walls that have kept him commitment-free, she's building them up again, determined to keep the hurt—and Nick—out. But he can't walk away. Not when she's the only one who's ever made him wish for forever . . .
Bloodline - Conn Iggulden (Book #3 in The Wars of The Roses Series)
This novel from bestselling author Conn Iggulden is the third book in the critically acclaimed Wars of the Roses series. Following Stormbird and Trinity this novel will continue through the brutal Civil War that we now know as the Wars of the Roses.
Bloodline sees the Lancastrian and Yorkist factions clash at the battle of Towton - the single most bloody conflict every fought on British soil. The victorious Edward of York seals his claim to the English throne.
The Fiery Trial - Cassandra Clare (Book #8 in The Tales From The ShadowHunter Academy Series)
Emma Carstairs and Julian Blackthorn become parabatai. Simon and Clary both act as their witnesses, so they can see what a parabatai bond forming looks like as they want to become parabatai as soon as Simon graduates — and because Emma asked Clary. The ritual goes unexpectedly …
and now onto the other books....
Night Circus - Erin Morganstern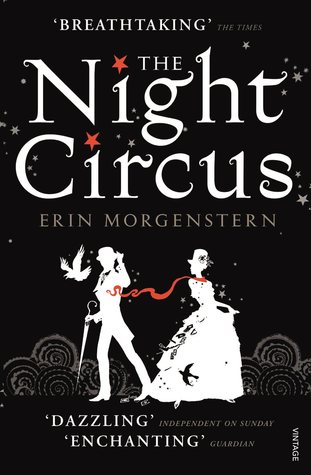 The circus arrives without warning. No announcements precede it. It is simply there, when yesterday it was not. Within the black-and-white striped canvas tents is an utterly unique experience full of breathtaking amazements. It is called "Le Cirque des Reves," and it is only open at night.

But behind the scenes, a fierce competition is underway--a duel between two young magicians, Celia and Marco, who have been trained since childhood expressly for this purpose by their mercurial instructors. Unbeknownst to them, this is a game in which only one can be left standing, and the circus is but the stage for a remarkable battle of imagination and will. Despite themselves, however, Celia and Marco tumble headfirst into love - a deep, magical love that makes the lights flicker and the room grow warm whenever they so much as brush hands.

True love or not, the game must play out, and the fates of everyone involved, from the cast of extraordinary circus per-formers to the patrons, hang in the balance, suspended as precariously as the daring acrobats overhead.
Wake - Amamda Hocking (Book #1 in The Watersong Quartet)
Gorgeous. Fearless. Dangerous. They're the kind of girls you envy; the kind of girls you want to hate. Strangers in town for the summer, Penn, Lexi and Thea have caught everyone's attention—but it's Gemma who's attracted theirs. She's the one they've chosen to be part of their group.

Gemma seems to have it all—she's carefree, pretty, and falling in love with Alex, the boy next door. He's always been just a friend, but this summer they've taken their relationship to the next level, and now there's no going back. Then one night, Gemma's ordinary life changes forever. She's taking a late night swim under the stars when she finds Penn, Lexi and Thea partying on the cove. They invite her to join them, and the next morning she wakes up on the beach feeling groggy and sick, knowing something is different.

Suddenly Gemma is stronger, faster, and more beautiful than ever. But her new powers come with a terrifying price. And as she uncovers the truth, she's is forced to choose between staying with those she loves—or entering a new world brimming with dark hungers and unimaginable secrets.
Warleggan - Winston Graham (Book #4 in The Poldark Saga)
****SPOILERS****
Cornwall, 1792-1793
Ross Poldark plunges into a speculative mining venture which threatens his financial security and his stormy marriage to Demelza. When the old attraction between Ross and Elizabeth begins to rekindle itself, Demelza retaliates by becoming dangerously involved with a Scottish cavalry officer.
The Invasion of The Tearling - Erika Johansen (Book #2 in The Queen of The Tearling Trilogy)
With each passing day, Kelsea Glynn is growing into her new responsibilities as Queen of the Tearling. By stopping the shipments of slaves to the neighboring kingdom of Mortmesne, she crossed the Red Queen, a brutal ruler whose power derives from dark magic, who is sending her fearsome army into the Tearling to take what is hers. And nothing can stop the invasion.

But as the Mort army draws ever closer, Kelsea develops a mysterious connection to a time before the Crossing, and she finds herself relying on a strange and possibly dangerous ally: a woman named Lily, fighting for her life in a world where being female can feel like a crime. The fate of the Tearling —and that of Kelsea's own soul—may rest with Lily and her story, but Kelsea may not have enough time to find out.
Virgin Widow - Anne O'Brien
I was a penniless, landless petitioner, my Neville blood a curse, my future dependent on the charity of those who despised me… Anne Neville is the heiress and daughter of the greatest powerbroker in the land, Warwick the Kingmaker. Trapped in a deadly tangle of political intrigue, she is a pawn in an uncertain game, used by the houses of Neville, York and Lancaster alike. In England's glittering, treacherous court, not all wish to see the Nevilles raised high. The Earl of Warwick's ambition and pride lead him into an attempt to depose the Yorkist King; his treason forces his family into exile. Humiliated and powerless in a foreign land, Anne must find the courage and the wit to survive in such a dangerous man's world.
The Help - Kathryn Stockett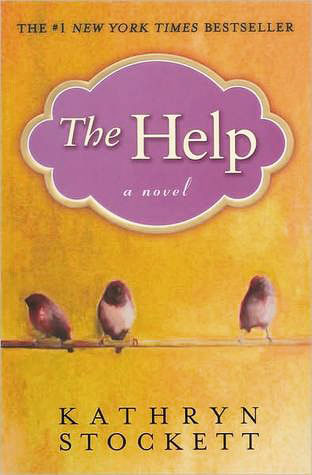 Three ordinary women are about to take one extraordinary step....

Twenty-two-year-old Skeeter has just returned home after graduating from Ole Miss. She may have a degree, but it is 1962, Mississippi, and her mother will not be happy till Skeeter has a ring on her finger. Skeeter would normally find solace with her beloved maid Constantine, the woman who raised her, but Constantine has disappeared and no one will tell Skeeter where she has gone.

Aibileen is a black maid, a wise, regal woman raising her seventeenth white child. Something has shifted inside her after the loss of her own son, who died while his bosses looked the other way. She is devoted to the little girl she looks after, though she knows both their hearts may be broken.

Minny, Aibileen's best friend, is short, fat, and perhaps the sassiest woman in Mississippi. She can cook like nobody's business, but she can't mind her tongue, so she's lost yet another job. Minny finally finds a position working for someone too new to town to know her reputation. But her new boss has secrets of her own.

Seemingly as different from one another as can be, these women will nonetheless come together for a clandestine project that will put them all at risk. And why? Because they are suffocating within the lines that define their town and their times. And sometimes lines are made to be crossed.
The Lovely Bones - Alice Sebold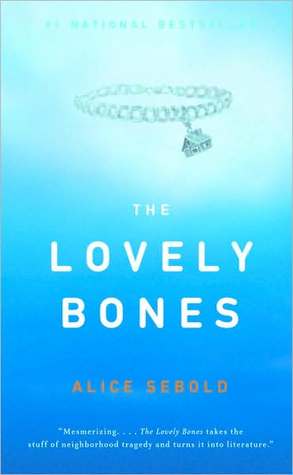 The Lovely Bones is the story of a family devastated by a gruesome murder -- a murder recounted by the teenage victim. Upsetting, you say? Remarkably, first-time novelist Alice Sebold takes this difficult material and delivers a compelling and accomplished exploration of a fractured family's need for peace and closure.

The details of the crime are laid out in the first few pages: from her vantage point in heaven, Susie Salmon describes how she was confronted by the murderer one December afternoon on her way home from school. Lured into an underground hiding place, she was raped and killed. But what the reader knows, her family does not. Anxiously, we keep vigil with Susie, aching for her grieving family, desperate for the killer to be found and punished.
Grave Mercy - Robin LaFevers (Book #1 in The His Fair Assassins Trilogy)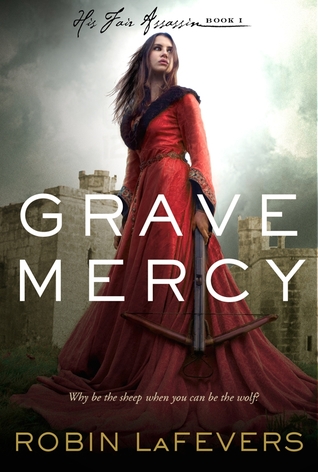 Why be the sheep, when you can be the wolf?

Seventeen-year-old Ismae escapes from the brutality of an arranged marriage into the sanctuary of the convent of St. Mortain, where the sisters still serve the gods of old. Here she learns that the god of Death Himself has blessed her with dangerous gifts—and a violent destiny. If she chooses to stay at the convent, she will be trained as an assassin and serve as a handmaiden to Death. To claim her new life, she must destroy the lives of others.

Ismae's most important assignment takes her straight into the high court of Brittany—where she finds herself woefully under prepared—not only for the deadly games of intrigue and treason, but for the impossible choices she must make. For how can she deliver Death's vengeance upon a target who, against her will, has stolen her heart?
A Discovery of Witches - Deborah Harkness (Book #1 in The All Souls Trilogy)
When historian Diana Bishop opens an alchemical manuscript in the Bodleian Library, it's an unwelcome intrusion of magic into her carefully ordered life. Though Diana is a witch of impeccable lineage, the violent death of her parents while she was still a child convinced her that human fear is more potent than any witchcraft. Now Diana has unwittingly exposed herself to a world she's kept at bay for years; one of powerful witches, creative, destructive daemons and long-lived vampires. Sensing the significance of Diana's discovery, the creatures gather in Oxford, among them the enigmatic Matthew Clairmont, a vampire genticist. Diana is inexplicably drawn to Matthew and, in a shadowy world of half-truths and old enmities, ties herself to him without fully understanding the ancient line they are crossing. As they begin to unlock the secrets of the manuscript and their feelings for each other deepen, so the fragile balance of peace unravels...
The Luxe - Anna Godberson (Book #1 in The Luxe Series)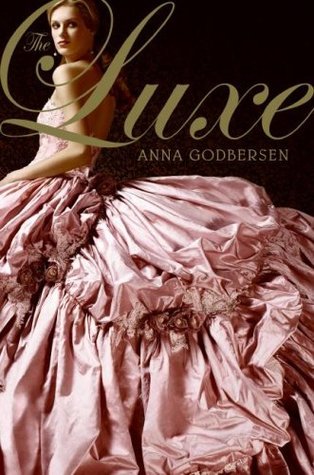 Pretty girls in pretty dresses, partying until dawn. Irresistible boys with mischievous smiles and dangerous intentions. White lies, dark secrets, and scandalous hookups. This is Manhattan, 1899.
Beautiful sisters Elizabeth and Diana Holland rule Manhattan's social scene. Or so it appears. When the girls discover their status among New York City's elite is far from secure, suddenly everyone--from the backstabbing socialite Penelope Hayes, to the debonair bachelor Henry Schoonmaker, to the spiteful maid Lina Broud--threatens Elizabeth's and Diana's golden future. With the fate of the Hollands resting on her shoulders, Elizabeth must choose between family duty and true love. But when her carriage overturns near the East River, the girl whose glittering life lit up the city's gossip pages is swallowed by the rough current. As all of New York grieves, some begin to wonder whether life at the top proved too much for this ethereal beauty, or if, perhaps, someone wanted to see Manhattan's most celebrated daughter disappear... In a world of luxury and deception, where appearance matters above everything and breaking the social code means running the risk of being ostracised forever, five teenagers lead dangerously scandalous lives. This thrilling trip to the age of innocence is anything but innocent.
Dark Places - Gillian Flynn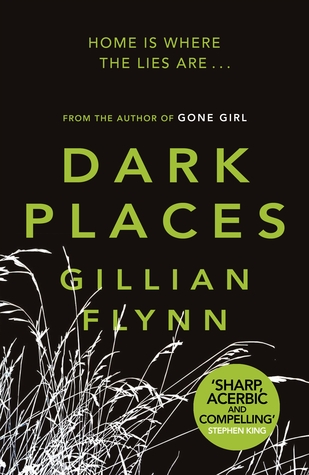 Libby Day was just seven years old when her evidence put her fifteen-year-old brother behind bars.

Since then, she has been drifting. But when she is contacted by a group who are convinced of Ben's innocence, Libby starts to ask questions she never dared to before. Was the voice she heard her brother's? Ben was a misfit in their small town, but was he capable of murder? Are there secrets to uncover at the family farm or is Libby deluding herself because she wants her brother back?

She begins to realise that everyone in her family had something to hide that day... especially Ben. Now, twenty-four years later, the truth is going to be even harder to find.

Who did massacre the Day family?
Envy - Gregg Olsen (Book #1 in The Empty Coffin Series)
Crime lives--and dies--in the deceptively picture-perfect town of Port Gamble (aka "Empty Coffin"), Washington. Evil lurks and strange things happen--and 15-year-olds Hayley and Taylor Ryan secretly use their wits and their telepathic "twin-sense" to uncover the truth about the town's victims and culprits.
So That is what i am planing to read in September