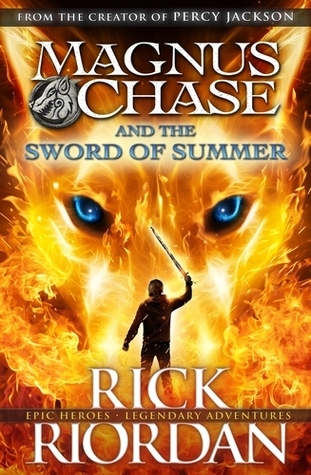 Title

-
Sword Of Summer
Series

-
Magnus Chase & The Gods of Asgard
Author

-
Rick Riordan
ISBN

-
978-0-141-34241-2
My Copy

-
Purchased
Where You Can Find it

-
Goodreads - Waterstones - Barnes & Noble - Book Depository - Amazon UK - Amazon US
Magnus Chase is homeless his mother died a couple years ago and his father has never been around, his mother always told him not to trust his uncle, and when his other uncle comes looking for him he is suspicious and when he is accompanied by his cousin Annabeth, he learns a secret kept from him by everyone he is the son of a Norse God and he has to prove himself worthy of being allowed in Valhalla, a warriors paradise he has to go on quests and make enemies every where he goes. Will Magnus find out why his Uncle is not to be trusted and what his cousin Annabeth's secret is?
So first post it i put in the book was on the dedication ...
i literally fangirled so hard reading that, The funny Chapter headers are back and as brilliant as ever. This was such a good book Rick Riordan has done it again he has made me fall in love with a mythological world this time the Norse Mythology, Magnus is sassy and a fun character POV to read from. Even his sword has sass and we also have some really lovely Magnus/Annabeth family bonding there is a lot of action and suspense as well, i wouldn't call this middle grade there is a lot more YA humour in this then his other books like
"the waist deep water was so cold i imagined i would be singing soprano for the rest of the week."
Its really difficult not to spoil the story line of this book because its so intertwined with my feeling for the book so all i am going to say is it was a really good first book in a series and i cannot wait to carry on with this series.