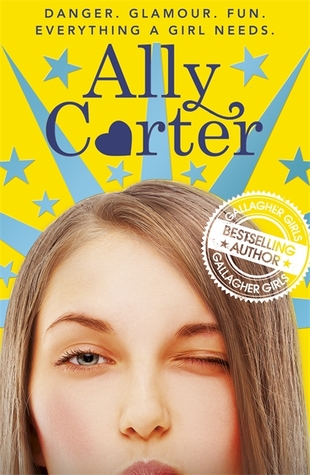 Title

-

See How They Run
Series

-

Embassy Row #2
Author

-

Ally Carter
ISBN

-

978-1-40833-438-6
Genre

-

YA
My Copy

-

Purchased
Where You Can Find It

- Goodreads - Waterstones - Barnes and Noble - Book Depository - Amazon UK - Amazon US
***DISCLAIMER***
See How They Run is the second book I have a review of the first book in the series HERE so if you haven't read the first book don't read on because I will be spoiling the first book.
See How They Run picks up right where All Fall Down finished with Grace still reeling from the fact it was her who killed her mother and not Dominic (scarred Man). Things get complicated Grace's older brother Jamie comes to visit and brings his friend Spence with him. When Spence washes up dead there is only one suspect Alexei. Grace and the gang have to try to clear Alexei's name but it's not that simple because someone is trying to frame Alexei and they will go to any lengths to get him out of they way even going as far as to try to kill him will any of them make it out alive and will they clear Alexei's name before its too late.
Ok let me start of by saying I read this in one sitting, I couldn't put it down it had me from the very first page and I was hooked all the way too the last. It had drama, action, friendship and just plain intrigue. I loved this book it had me up until 1:44 am just to finish it. Honest to God I want the next book now the ending to this book is torcher it ends on such a cliff hanger so I do recommend waiting until the next book is nearer because it's killing me not knowing what happens next.
There is a lot of character history in this book we learn more about Grace's mum and Dominic and how Jamie dealt with the fact his little sister killed his mum, we also have Alexei and his "feelings" for Grace even if he's not admitting them and his morals like giving up his diplomatic immunity so he can be questioned by the police.
I loved this book I hope you give this book and series a chance, Ally Carter is one of those authors I always wonder why they are not more popular because she writes such amazing characters and does some amazing world building