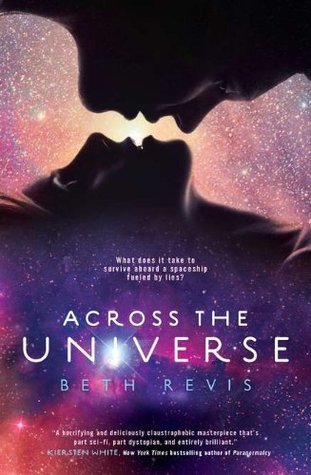 Title
-
Across The Universe
Author
-
Beth Revis
Series
-
Across The Universe #1
ISBN
-
9780141333663
Genre
-
YA > Science Fiction > Dystopian
My Copy
-
Purchased
Format
-
Paperback
Where You Can Find It
-
Goodreads - Waterstones - Barnes & Noble - Book Depository - Amazon UK - Amazon US
Amy has a choice to stay on Earth alone or be frozen for 300 years and be with her parents on a new planet, she chooses the latter but then one of the inhabitants on the ship start unfreezing people starting with Amy, Can Elder the next leader of the ship protect her from and unseen danger and can they really trust everyone around them when more and more Lie's come to light. Will Elder be able to protect and and find out who is unfreezing everybody before there is no more people from Earth frozen anymore
This was a good book i enjoyed it, it wasn't very clear to begin with the way Amy was written to me it seemed like she was 5 not 15, and also when it came to Elder that wasn't very clear to begin with either. It was pretty predictable i will admit especially when you are reading it you can see exactly where the story is going, but that didn't bother me too much but i still would have like some shocks and surprises.
Character wise it was good not great but there were characters i loved but there were just so many to try to figure out. The 'Villian' in this was a tiny bit pathetic and i guessed who it was pretty much straight away i hope next time we get some more villainous activities and not just a half arsed antagonist.
My really big annoyance with this is the ending, it felt like a stand alone it didn't feel like the first book in a trilogy at all, there was no cliffhanger some people will love that but personally i hate it, it doesn't give me any incentive to carry on with the series at all and as i said the ending was more of a stand alone or the last book in a series than the first book.
Overall i gave it 4 stars because even with its faults i still really enjoyed myself reading it and i don't know if i will carry on with this series, if you have read it and they get better please comment and tell me, so i can really think about giving this a go.