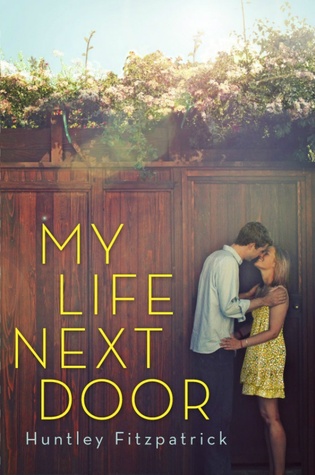 Title
-
My Life Next Door
Author
-
Huntley Fitzpatrick
ISBN
-
9781405280372
Genre
-
YA > Contemporary > Romance
My Copy
-
Purchased
Format
-
Paperback
Where You Can Find It
-
Goodreads - Waterstones - Barnes & Noble - Book Depositroy - Amazon UK - Amazon US
Sam is alone, she has a best friend and a older sister and a mother but they seem to never be around, and when the noisy Garrett's moved in next door 10 years ago she had a new thing to do, sit on her roof and look and dream about the family next door and when one day one of those Garrett boys climbs on her roof and talks to her her life changes for ever, but with a mum running in a election she cant put a foot wrong but when a driving accident threatens the life of someone she lives will she put her mothers Career over her love for the family who took her in and treated them as her own or will she lose the Garrett's forever.
I loved this book i have wanted to read it for so long but on amazon it was only in hardback and used from US and i really wanted a paperback copy because most of my other contemporary are paperback and when i went food shopping one day and saw it there i immediately brought it. I had such high expectations for this book and it definitely lived up to them, normally i can guess what is going to happen in a contemporary but it took me a while and i only guessed it once we had all of the evidence so it wasn't really guessing. this was an overall amazing stand alone and i really wish it wasn't a stand alone as well because i really want to read more about Sam, and Jase.
Onto the characters i was definitely split on the characters there were some that were some of the best i have read in a long time, then there are some of the most annoying characters i have read in a while i wont mention who because it is not clear in the beginning, but some of these characters you will start of hating and end up loving and also the other way around as well, Parent wise Sam's mum is different and also if Sam was a different kind of child she would be classed as a bad mother but she is just neglectful more invested in her job than her family then you have the complete opposite in the Garrett family and for me everyone should have parents like the Garrett's then you have all of the Garrett children they were all such nice well mannered children who you just cant help but love. Sam was an amazing and strong character's perspective to read from and Jase was just as lovely he will make you fall in love with him because he is so family oriented and he is one of those guys that you would wanna take home to mama.
Overall i loved this book and it is one of my all time favourite contemporaries and i cannot wait for Huntley Fitzpatrick's other books to come out in the UK during the course of this year and devour them all.