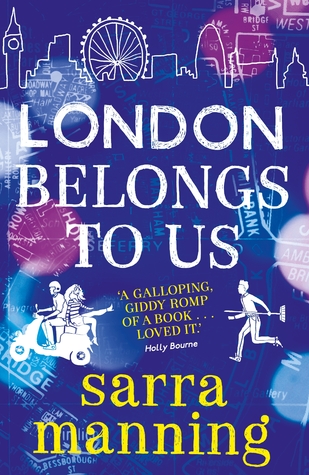 Title
-
London Belongs To Us
Author
-
Sarrra Manning
ISBN
-
9781471404610
Genre
-
Y
A > Contemporary
Release Date
-
2nd June 2016
My Copy
-
E- ARC
Format
-
Kindle
Where You Can Find It
-
Goodreads - Waterstones - Barnes & Noble -

Amazon UK - Amazon US
Twelve Hours, Two French Boys, and a trip around London. Sunny's boyfriend has cheated on her and she will have to go on a trip around London to confront him. Along the way she meets some interesting people and spends some time with two mysterious french guys. Along the way Sunny just might find who she truly is as well.
When i finished this book i had the biggest smile on my face, it was one of those books that just make you feel happy and at peace with the world because it was just a really good book. From the characters to the storyline it was brilliant, and i love that it is a UKYA book since there really needs to be more.
Every single character was amazing from Sunny and the Godard's (The French Boys) to the Australian guy on a rickshaw, and the drag queens in a chicken shop. Every one of them added to the experience Sunny's and ours. Sunny as a character grew so much in a book under 300 pgs there sure is a lot of character development, Sunny especially grew from when we first meet her till we leave her on the last page she has some amazing character Development. I don't want to spoil anything so I'm not going to talk much about the other characters because i loved the surprise i got when reading the characters for the first time.
The Story was one of those i wont forget in a while, nothing to do with the cheating aspect but more to do with the growth and all of the scenarios and situations she got herself in, as a Londoner i loved this book seeing London through a natives eyes it is one of those things that is so good because, of what it is and you see all of the different cultures in London from the posh people of Chelsea to the crazy people of East London and the colourful people of the Notting Hill carnival. It was truly amazing and i loved every page of this book, and i highly recommend this book to anyone who loves adventure, and different people and a strong female character who learns to be strong in front of your very eyes.
"It doesn't matter what side I see the skyline from; it always feels like home. It's London."
"Maybe its because I'm a Londoner that i love London Town"
" Back home we call you Le rosbif!" (The Roast Beef)
"The Fairest of all Fair cities"
"But somethings will always stay the same, London, I love you"
"One broken Heart. One heart mended."