Hiya,
so my October tbr is not theamed this month mainly because i was going to do witches but my tbr pile is too big and i need to dwindel it down a bit
so the first two books are re reads and they are ...
Blood Moon - Alyxandra Harvey (book 5 in the Drake Chronicles)
Blood moon is the 5th book of a six book book series which centers around the Drake family who are vampires and the youngest Drake Solonge Best friend Human Lucy Hamilton. Yes its a vampire series but i love it anyway.
Only the good spy young - Ally Carter (book 4 in the gallagher girls series)
the gallagher girls series floows cammie morgan who goes to gallagher academy a school for exception young women, well thats what the civillians think is you have clearance you will know gallagher academy is actully a school for spys in training and cammies life gets weirder and harded every term.
the next three book are new releases
my most antisipated book of the year
Blood Of Olympus - Rick Riordan (book 5 In the heroes of oylmpus Series)
i cannot tell you much about this book without spioling the series you need to read percy jackson and the olympians eben though tequniquly its a childrens book its amazing and then when you get on the heroes of olympus seires where there older its more YA
Redeemed - P.C & Kristin Cast (book 12 in the house of night seires)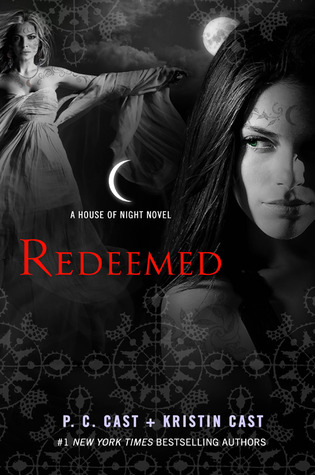 now im not a huge fan of this series i loved the first about 4 books but now i hate havingf uncompleated series on my shelf so i have pushed through and finaly this is the end it has been draged out and draged out but now im kind of intriged as to how it will all end.
In the Afterlight - Alexandra Bracken (book 3 in the darkest minds trilogy)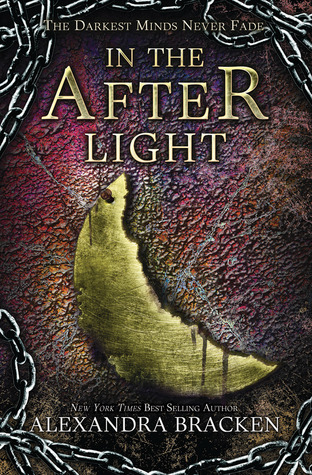 i wasnt like everyone else who is obsessed with the first book but then i read Never Fade and then i fell in love with it and now im sad to see another trilogy end but at the same time cant wait to see what happens.
now all the next books have been on my tbr for quite a while
The Queens fool - Philippa Gregory (the 4th book in the tudor court series)
Synopsis
A young woman caught in the rivalry between Queen Mary and her half sister, Elizabeth, must find her true destiny amid treason, poisonous rivalries, loss of faith, and unrequited love.

It is winter, 1553. Pursued by the Inquisition, Hannah Green, a fourteen-year-old Jewish girl, is forced to flee Spain with her father. But Hannah is no ordinary refugee. Her gift of "Sight," the ability to foresee the future, is priceless in the troubled times of the Tudor court. Hannah is adopted by the glamorous Robert Dudley, the charismatic son of King Edward's protector, who brings her to court as a "holy fool" for Queen Mary and, ultimately, Queen Elizabeth. Hired as a fool but working as a spy; promised in wedlock but in love with her master; endangered by the laws against heresy, treason, and witchcraft, Hannah must choose between the safe life of a commoner and the dangerous intrigues of the royal family that are inextricably bound up in her own yearnings and desires
Trinity - Conn Iggulden (book 2 in the wars of the roses series)
Trinity is the second book in the Wars Of The Roses series the first being Stormbird which was a very riveting read and this book mainly focus's on Henry VI of Lancaster and Richard Plantagenet Duke of York. If you love historical fiction give this series a go.
Not much i can say without spoilers but read the book or watch the tv show there are both equally amazing
The Maze Runner - James Dashner ( book 1 in the maze runer trilogy)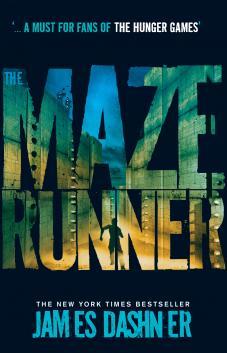 Synopsis
If you ain't scared, you ain't human.

When Thomas wakes up in the lift, the only thing he can remember is his name. He's surrounded by strangers—boys whose memories are also gone.

Nice to meet ya, shank. Welcome to the Glade.

Outside the towering stone walls that surround the Glade is a limitless, ever-changing maze. It's the only way out—and no one's ever made it through alive.

Everything is going to change.

Then a girl arrives. The first girl ever. And the message she delivers is terrifying.

Remember. Survive. Run.
Synopsis
In what may be Dickens's best novel, humble, orphaned Pip is apprenticed to the dirty work of the forge but dares to dream of becoming a gentleman — and one day, under sudden and enigmatic circumstances, he finds himself in possession of "great expectations." In this gripping tale of crime and guilt, revenge and reward, the compelling characters include Magwitch, the fearful and fearsome convict; Estella, whose beauty is excelled only by her haughtiness; and the embittered Miss Havisham, an eccentric jilted bride
Born Wicked - Jessica Spotswood (book 1 in the cahiill witch chronicles)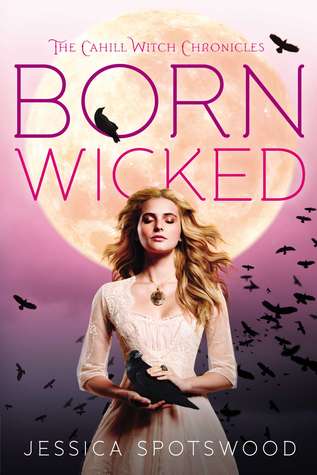 Synopsis
Everybody knows Cate Cahill and her sisters are eccentric. Too pretty, too reclusive, and far too educated for their own good. But the truth is even worse: they're witches. And if their secret is discovered by the priests of the Brotherhood, it would mean an asylum, a prison ship—or an early grave.

Before her mother died, Cate promised to protect her sisters. But with only six months left to choose between marriage and the Sisterhood, she might not be able to keep her word... especially after she finds her mother's diary, uncovering a secret that could spell her family's destruction. Desperate to find alternatives to their fate, Cate starts scouring banned books and questioning rebellious new friends, all while juggling tea parties, shocking marriage proposals, and a forbidden romance with the completely unsuitable Finn Belastra.

If what her mother wrote is true, the Cahill girls aren't safe. Not from the Brotherhood, the Sisterhood—not even from each other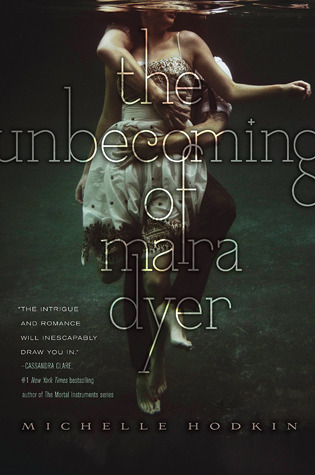 Synopsis
Mara Dyer believes life can't get any stranger than waking up in a hospital with no memory of how she got there.
It can.

She believes there must be more to the accident she can't remember that killed her friends and left her strangely unharmed.
There is.

She doesn't believe that after everything she's been through, she can fall in love.
She's wrong.
Half Bad - Sally Green ( book 1 in the Half Life Trilogy)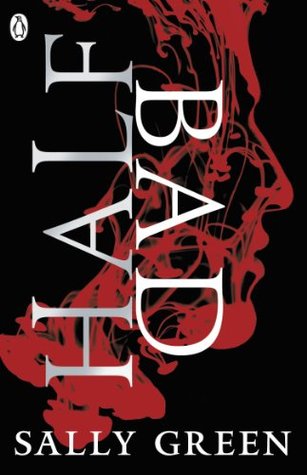 Synopsis
Sixteen-year-old Nathan lives in a cage: beaten, shackled, trained to kill. In a modern-day England where two warring factions of witches live amongst humans, Nathan is an abomination, the illegitimate son of the world's most terrifying and violent witch, Marcus. Nathan's only hope for survival is to escape his captors, track down Marcus, and receive the three gifts that will bring him into his own magical powers—before it's too late. But how can Nathan find his father when there is no one safe to trust, not even family, not even the girl he loves?

Half Bad is an international sensation and the start of a brilliant trilogy: a gripping tale of alienation and the indomitable will to survive.
Grave Mercy - Robin La Fevers (book 1 in the his fair assassins trilogy)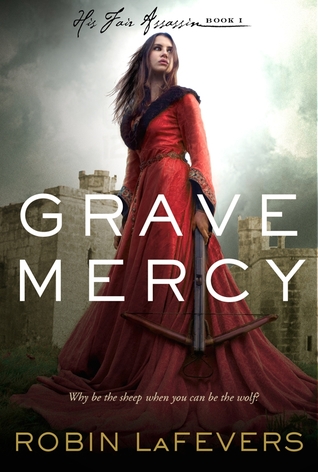 Synopsis
Seventeen-year-old Ismae escapes from the brutality of an arranged marriage into the sanctuary of the convent of St. Mortain, where the sisters still serve the gods of old. Here she learns that the god of Death Himself has blessed her with dangerous gifts—and a violent destiny. If she chooses to stay at the convent, she will be trained as an assassin and serve as a handmaiden to Death. To claim her new life, she must destroy the lives of others.

Ismae's most important assignment takes her straight into the high court of Brittany—where she finds herself woefully under prepared—not only for the deadly games of intrigue and treason, but for the impossible choices she must make. For how can she deliver Death's vengeance upon a target who, against her will, has stolen her heart?
Synopsis
Violet Willoughby doesn't believe in ghosts. But they believe in her. After spending years participating in her mother's elaborate ruse as a fraudulent medium, Violet is about as skeptical as they come in all matters supernatural. Now that she is being visited by a very persistent ghost, one who suffered a violent death, Violet can no longer ignore her unique ability. She must figure out what this ghost is trying to communicate, and quickly because the killer is still on the loose.

Afraid of ruining her chance to escape her mother's scheming through an advantageous marriage, Violet must keep her ability secret. The only person who can help her is Colin, a friend she's known since childhood, and whom she has grown to love. He understands the true Violet, but helping her on this path means they might never be together. Can Violet find a way to help this ghost without ruining her own chance at a future free of lies?
The Immortal Rules - Julie Kagawa ( book 1 in the blood of eden series)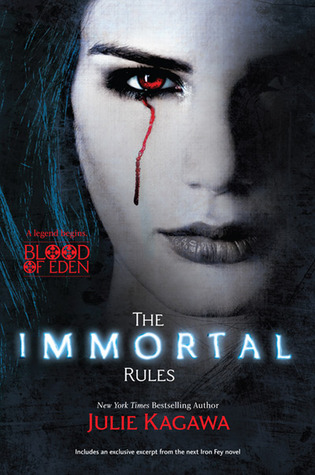 Synopsis
To survive in a ruined world, she must embrace the darkness…

Allison Sekemoto survives in the Fringe, the outermost circle of a walled-in city. By day, she and her crew scavenge for food. By night, any one of them could be eaten. Some days, all that drives Allie is her hatred of them—the vampires who keep humans as blood cattle. Until the night Allie herself dies and becomes one of the monsters.

Forced to flee her city, Allie must pass for human as she joins a ragged group of pilgrims seeking a legend—a place that might have a cure for the disease that killed off most of civilization and created the rabids, the bloodthirsty creatures who threaten human and vampire alike. And soon Allie will have to decide what and who is worth dying for… again.
Alice in ZombieLand - Gena Showalter ( book 1 in the white rabbit chronicles)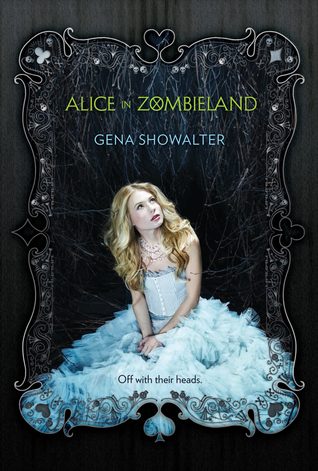 Synopsis
She won't rest until she's sent every walking corpse back to its grave. Forever.

Had anyone told Alice Bell that her entire life would change course between one heartbeat and the next, she would have laughed. From blissful to tragic, innocent to ruined? Please. But that's all it took. One heartbeat. A blink, a breath, a second, and everything she knew and loved was gone.

Her father was right. The monsters are real….

To avenge her family, Ali must learn to fight the undead. To survive, she must learn to trust the baddest of the bad boys, Cole Holland. But Cole has secrets of his own, and if Ali isn't careful, those secrets might just prove to be more dangerous than the zombies….


I wish I could go back and do a thousand things differently.
I'd tell my sister no.
I'd never beg my mother to talk to my dad.
I'd zip my lips and swallow those hateful words.
Or, barring all of that, I'd hug my sister, my mom and my dad one last time.
I'd tell them I love them.
I wish... Yeah, I wish
Synopsis

The most powerful heiress in Western Europe Eleanor, Duchess of Aquitaine, was not content to sit idly while patriarchs attempted to control her destiny. Ambitious as any conqueror, she used manipulation and seduction to ensnare Louis VII, King of France, as her husband, but his devotion to the church and weakness of will hindered Eleanor's aspiration.

Undeterred, Eleanor relentlessly pursues power, taking forbidden lovers, going on Crusade and surviving hardships. Eleanor also dares to fi nd a more compatible husband before severing her marriage to King Louis VII a man fated to rule beside her but unable to tame a woman gloriously determined to remain a queen defiant.
A Breath Of Frost - Alyxandra Harvey (book 1 in the lovegrove legacy)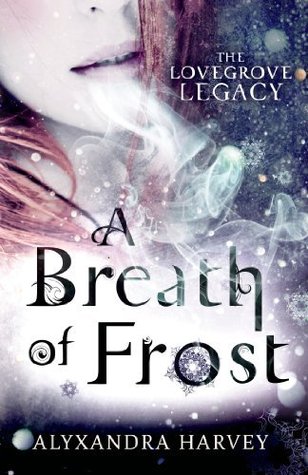 Synopsis
In 1814, three cousins—Gretchen, Emma, and Penelope—discover their family lineage of witchcraft when a binding spell is broken, allowing their individual magical powers to manifest. Now, beyond the manicured gardens and ballrooms of Regency London, an alluring underworld available only to those with power is revealed to the cousins. By claiming their power, the three cousins have accidentally opened the gates to the underworld.

Now ghouls, hellhounds—and most terrifying of all, the spirits of dark witches known as the Greymalkin Sisters—are hunting and killing young debutante witches for their powers. And, somehow, Emma is connected to the murders…because she keeps finding the bodies.

Can the cousins seal the gates before another witch is killed…or even worse, before their new gifts are stripped away?
Happy Reading
Peyton
xoxoxoxoxo