Hi,
so it is less than a week till Christmas so i figured i should start the Christmas tags i was meant to do last week but didn't get around to so lets get started ...

1. Elf- choose a book that puts you in the Christmas mood
My True Love Gave to Me is the first real Christmas book i own and i got it this year so its gonna have to be.
My True Love Gave To Me - Stephanie Perkins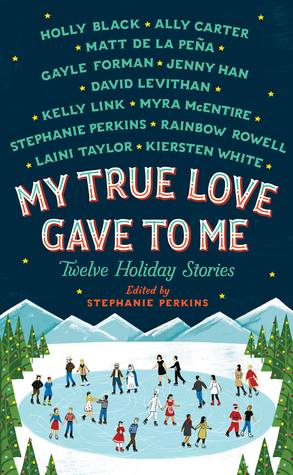 2. It's a Wonderful Life- choose a book with a character who goes through some serious character development
In the Indigo Spell, Sydney Sage goes through some major character development throughout some of Vampire Academy and The Bloodlines book previous to TIS you see her character change so much its astonishing.
3. Christmas Carol- choose a book/series with a character you didn't like at first, but grew to love
Warner from Shatter Me, i think anybody who read Shatter Me not knowing anything about the characters and how they develop has to hate Warner hes the evil baddie in the first book but in the next two and mainly the novella you see what his real character is and how caring and loving he really is.
4. Home Alone- choose a book where the parents aren't present and if they are, they aren't such a good influence
Dash & Lily's Book of Dares Lily's parents are on their honeymoon they never got to have the first time round and Dashes parents are both doing there own thing thinking he is with the other when really hes at home by himself.
5. Frosty the Snowman- Find a book with a snowy cover.
Christmas Cookie Club - Ann Pearlman
6. Rudolph the Red Nose Reindeer- Choose a protagonist you couldn't help but root for.
Percy Jackson, hes just so lovable from the first book when hes 12 until the last book we see him in when hes 16 he never changed from the adorable pre teen to grown up man.
7. Polar Express- Find a book where characters travel somewhere cold.
Blood Promise - Richelle Mead Rose Hathaway travels to Russia
8. How the Grinch Stole Christmas- Choose a villain you couldn't help but love.
I guess mine would be George Wickham from Pride & Prejudice because he is the epitome of evil in that era he keeps trying to marry 15 year old girls, hes a lying manipulative, gambler with a massive amount of debt (and i could think of any others that i liked)
9. National Lampoon's Christmas Vacation- Choose a character with a goofy sense of humour.
My Favourite Quote from his is from Ignite me
"Hey- Jazz Hands!" Kenji barks. "get your ass back over here." He makes it a point to look as irritated as possible."Back to work. And this time, focus. You're not and ape. Don't just throw your shit everywhere"
10. Lifetime/Hallmark movie- Choose a book with the cheesiest romance.
Anna and The French Kiss - Stephanie Perkins
This book is such a cheesy romantic book in the most romantic city in the world come on this book wins hands down.