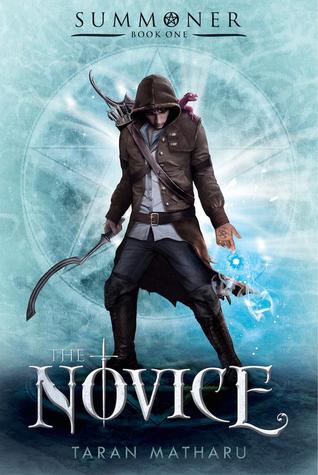 Name - The Novice
Series - The Summoner
Author - Taran Matharu
My rating - 4.5 / 5
Goodreads -
The Novice
ISBN -
125006712X
(ISBN13:

9781250067128

)
My Copy - E-Arc form NetGalley
Release date - 5th May 2015
Synopsis -
When blacksmith apprentice Fletcher discovers that he has the ability to summon demons from another world, he travels to Adept Military Academy. There the gifted are trained in the art of summoning. Fletcher is put through gruelling training as a battlemage to fight in the Hominum Empire's war against orcs. He must tread carefully while training alongside children of powerful nobles. The power hungry, those seeking alliances, and the fear of betrayal surround him. Fletcher finds himself caught in the middle of powerful forces, with only his demon Ignatius for help.
As the pieces on the board manoeuvre for supremacy, Fletcher must decide where his loyalties lie. The fate of an empire is in his hands. The Novice is the first in a trilogy about Fletcher, his demon Ignatius, and the war against the Orcs.
So I'm not a huge fan of fantasy but I decided to give this book a go a d I'm so glad I did because it was fantastic one of the best first books in a series I have read in a long time.
The main protagonist is Fletcher who is an orphan who live with a blacksmith then comes across a summoners book and decides to give it a try, and that starts him on a journey that takes him far from home and he meets some brilliant characters along the way. There are so many antagonists in this book it would take me forever to name them all but what I can say is if you love fantasy or are just getting into it like me then this is a book you should try because it has the fantasy elements but not overwhelmingly so.
Also if that wasn't incentive enough you also have an academy (which i love), and Orcs , Elves, Gremlins and demons.
This book will definitely be in my top books of 2015
So give this book a try because It will leave you wanting more.
Until next time
Happy Reading
Peyton