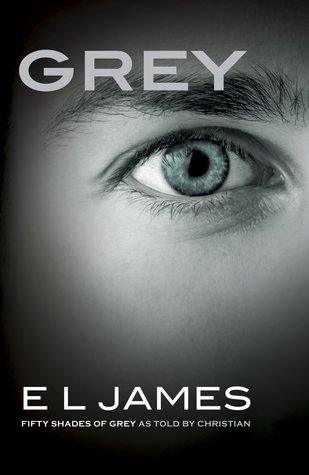 Title - Grey
Series - Fifty Shades of Grey
Author - E L James
My Rating - 3.5 / 5
Goodreads - Grey
ISBN - 1101946342 (ISBN13:

9781101946343

)
My Copy - Brought from Amazon.co.uk
Release Date - 18th June 2015
Synopsis -
In Christian's own words, and through his thoughts, reflections, and dreams, E L James offers a fresh perspective on the love story that has enthralled millions of readers around the world.
Christian Grey exercises control in all things; his world is neat, disciplined, and utterly empty—until the day that Anastasia Steele falls into his office, in a tangle of shapely limbs and tumbling brown hair. He tries to forget her, but instead is swept up in a storm of emotion he cannot comprehend and cannot resist. Unlike any woman he has known before, shy, unworldly Ana seems to see right through him—past the business prodigy and the penthouse lifestyle to Christian's cold, wounded heart.
Will being with Ana dispel the horrors of his childhood that haunt Christian every night? Or will his dark sexual desires, his compulsion to control, and the self-loathing that fills his soul drive this girl away and destroy the fragile hope she offers him?
This book is intended for mature audiences.
So i brought this book because i was curious as to how E L James would spin it, i love reading books from different perspectives (Trust in me - J Lynn, Walking Disaster - Jamie McGuire, Rush Too Far - Abbi Glines ECT...)
i have to admit i had very few expectations going into this book. It wasn't bad don't get me wrong but i did find my self skipping a few lines here and there just to make it go quicker.
So lets discuss Christians POV, it was actually enlightening to see his perspective on the events and to see his view's on his lifestyle and also his nightmares. His nightmares were very sad and you could see if someone lived through that then went on to experience what he did with Elena why he would be a bit messed up in the head. I was shocked at how little work he actually did while chasing Ana, and we also got more information on Leila where as before we didn't really have any.
Like i said previously i didn't really enjoy this book there were some parts i literally laughed out loud but there were some parts that i did sort of skim over because i got bored for anyone who loved Fifty Shades i would recommend this book but to people who were a bit iffy on it i would go into it with trepidation and not a lot of expectations. Overall i did enjoy it for the most part and i do recommend you give it a go even if you just sample it to see if you like it it was fascinating and to read from Fifty Shades POV and i wish i could of connected more with this book.