Hello, so this is a series review of Philippa Gregory's Tudor Court series. This is a adult historical fiction series set in The Tudor period it is spanned between 1491 - 1587 so almost 100 years of history put into 7 books and told from the perspective of women who were general the lesser Sex back then. lets get started with book one.
The Constant Princess
Characters - Katherine of Aragon & Prince Arthur Tudor
Page Count - 486 pgs
ISBN - 978-0-00-792632-9
Price - GBP - £7.99
My Rating -
3.5 / 5
Synopsis - Splendid and sumptuous historical novel from this internationally bestselling author, telling of the early life of Katherine of Aragon. We think of her as the barren wife of a notorious king; but behind this legacy lies a fascinating story. Katherine of Aragon is born Catalina, the Spanish Infanta, to parents who are both rulers and warriors.
Aged four, she is betrothed to Arthur, Prince of Wales, and is raised to be Queen of England. She is never in doubt that it is her destiny to rule that far-off, wet, cold land. Her faith is tested when her prospective father-in-law greets her arrival in her new country with a great insult; Arthur seems little better than a boy; the food is strange and the customs coarse.
Slowly she adapts to the first Tudor court, and life as Arthur's wife grows ever more bearable. But when the studious young man dies, she is left to make her own future: how can she now be queen, and found a dynasty? Only by marrying Arthur's young brother, the sunny but spoilt Henry. His father and grandmother are against it; her powerful parents prove little use.
Yet Katherine is her mother's daughter and her fighting spirit is strong. She will do anything to achieve her aim; even if it means telling the greatest lie, and holding to it. Philippa Gregory proves yet again that behind the apparently familiar face of history lies an astonishing story: of women warriors influencing the future of Europe, of revered heroes making deep mistakes, and of an untold love story which changes the fate of a nation.
So this book takes on a new aspect to the relationship between Henry , Katherine and Arthur. It shows what history will never know, the truth died with these great historical figures. Katherine was a strong independent woman. When her husband dies at 15 she is left poverty because her father in law will not return her dowery and it show her journey from a young girl into a Queen. It tells the early life of a queen who we only really know about how it all ends.
This book although not my favourite i can still see some scenes vividly in my head and they have stuck with me even 2 years on.
The
Other Boleyn Girl
Characters - Anne Boleyn - Mary Boleyn - King Henry VIII
Page Count - 529 pgs
ISBN - 978-0-00-651400-8
My Rating - 4 / 5
Price - GBP - £7.99
Synopsis - Mary Boleyn catches the eye of Henry VIII when she comes to court as a girl of fourteen. Dazzled by the golden prince, Mary's joy is cut short when she discovers that she is a pawn in the dynastic plots of her family. When the capricious king's interest wanes, Mary is ordered to pass on her knowledge of how to please him to her friend and rival: her sister, Anne.
Anne soon becomes irresistible to Henry, and Mary can do nothing but watch her ambitious sister's rise. From now on, Mary will be no more than the other Boleyn girl. But beyond the court is a man who dares to challenge the power of her family to offer Mary a life of freedom and passion. If only she has the courage to break away - before the Boleyn enemies turn on the Boleyn girls...
This is probably the most well known of the series, it follows the Boleyn siblings from their rise in status to their fall. Anne, Mary and George are otherwise known as the three Boleyn's if you find one, another is not far away. When the youngest, Mary catches the eye of the notorious King of England their lives are changed forever, and the events that follow change the face of England forever. You will fall in love with and hate these characters with a passion but it is enthralling to read.
It took me a couple of times to get into this book because the first time i tried to read it i was about 13 years old, and i got a little weirded out by Mary getting married at 12 and having an affair with the King of England at 13. Then i started it again when i was 18 and i loved it. It is nothing like the movie, there are some similarities but i loved the book 10 times better.
The Boleyn Inheritance
Characters - Katherine Howard - Anne of Cleeves - Jane Boleyn - King Henry VIII
Page Count - 514 pgs
ISBN - 978-0-00-719033-1
My Rating - 4.5 / 5
Price - GBP - £7.99
Synopsis - The year is 1539 and the court of Henry VIII is increasingly fearful at the moods of the ageing sick king. With only a baby in the cradle for an heir, Henry has to take another wife and the dangerous prize of the crown of England is won by Anne of Cleves.
She has her own good reasons for agreeing to marry a man old enough to be her father, in a country where to her both language and habits are foreign. Although fascinated by the glamour of her new surroundings, she senses a trap closing around her. Katherine is confident that she can follow in the steps of her cousin Anne Boleyn to dazzle her way to the throne but her kinswoman Jane Boleyn, haunted by the past, knows that Anne's path led to Tower Green and to an adulterer's death.
The story of these three young women, trying to make their own way through the most volatile court in Europe at a time of religious upheaval and political uncertainty, is Philippa Gregory's most compelling novel yet.
The Boleyn Inheritance was the second book i read in this series and i loved it, it gives you the stories of the two queens who we don't know much about, Queens four & five Anne of Cleeves and Katherine Howard the two queens who went into it without much choice. The other queens were at least somewhat willing but Anne and Katherine were pretty much forced or coerced by the males in their families and we also get the story of Jane Boleyn the Widowed wife of George Boleyn and how she is now also a pawn in the game of who will become queen next.
As i said before this was the second book i read in this series and it really made me fall in love with Katherine Howard before reading this book i had only really heard and read about Anne Boleyn. This book had me disbelieving that this was pretty much what happened in my country 500 years ago, girls being forced into doing whatever the head male in the family said i just cannot imagine it.
The Queens Fool
Characters - Hannah Green - Lady Elizabeth - Mary I - Robert Dudley
Page Count - 488 pgs
ISBN - 978-0-00-791464-7
My Rating - 3 / 5
Price - GBP - £7.99
Synopsis -
A young woman caught in the rivalry between Queen Mary and her half sister, Elizabeth, must find her true destiny amid treason, poisonous rivalries, loss of faith, and unrequited love.

It is winter, 1553. Pursued by the Inquisition, Hannah Green, a fourteen-year-old Jewish girl, is forced to flee Spain with her father. But Hannah is no ordinary refugee. Her gift of "Sight," the ability to foresee the future, is priceless in the troubled times of the Tudor court. Hannah is adopted by the glamorous Robert Dudley, the charismatic son of King Edward's protector, who brings her to court as a "holy fool" for Queen Mary and, ultimately, Queen Elizabeth. Hired as a fool but working as a spy; promised in wedlock but in love with her master; endangered by the laws against heresy, treason, and witchcraft, Hannah must choose between the safe life of a commoner and the dangerous intrigues of the royal family that are inextricably bound up in her own yearnings and desires.
This book though not directly linked to the Tudor family its about the people around them the subjects, and what it was like to live under Tudor rule & what it was like being a pawn for for Lords and being a Jew in Tudor
England when there was already fighting over Catholicism and the Protestant Faith.
This was probably my least favourite book of the series but only because it didn't really feel like a Tudor novel to me it felt like i was reading something that i didn't really know the date of it seemed like it could have been at any point of time in history.
I liked Hannah as a character but there was also quite a few flaws in her and also the characters around her, for someone in the 16th Century she does thing that were considered punishable
and it seemed that to her nothing was wrong with it. overall it was somewhat of an enjoyable read and after i read it, i visited the Tower of London and saw one of the minor characters Will Sommers belongings and realised i had never given it a second glance but this book gave me some insight on characters you wouldn't normally hear about or give a second glance too.
The Virgins Lover
Characters - Queen Elizabeth I - Robert Dudley - Amy Dudley
Page Count - 482 pgs
ISBN - 978-0-00-714731-1
My Rating - 4.5 / 5
Price -
GBP - £7.99
Synopsis -
Elizabeth I has acceded to the throne of England, a position she has waited and schemed for all her life. She is surrounded by advisers, all convinced that a young woman cannot form political judgements. Elizabeth feels that she can rely on just one man: her oldest friend, Robert Dudley. It is soon plain that he is more than merely a friend.

In a house in the countryside waits a very different woman, Amy, Robert's wife. She has no taste for life at court and longs for the day when her husband will return home. She has loved him since she was a girl, but now they are adults she hardly sees him.

Meanwhile, the pressure grows for Elizabeth to marry, for it is unthinkable that a queen should rule on her own. Elizabeth's preference is clear, but he is unavailable. But what if the unthinkable were to happen…
This was the first book in the series i read and it started my love affair with historical fiction and Elizabeth. This book depicts the strong and independent character that to this day is still known as Gloriana and her reign as The Golden Age. This book takes on the subject that again we will never know the truth of was The Virgin Queen really a virgin or did she have an affair with her childhood friend Robert Dudley. On the other side of things you have Roberts wife Amy and her view on the relationship, and well you will have to see how it pans out for the three of them because i suggest you read this book it is extremely good. (Then again i did read it about 5 years ago but what i remember it is very good) ( I didn't put too much her because i didn't want to spoil this book it has quite a few twist and turns)
The Other Queen
Characters - Mary Queen of Scots - Bess Hardwick - George Talbot - Elizabeth I
ISBN - 978-0-00-792606-0
My Rating - 3.5 / 5
Price - GBP - £7.99
Synopsis -
At the centre of this novel is Mary Queen of Scotland, forced to flee into England. Mary, a devout Catholic, is, of course, a living threat to the rule of her cousin Elisabeth, whose Protestant reign is uncertain. We've been here before, of course, in various books and films. But Philippa Gregory's story this time has a different emphasis: Elizabeth's chief advisor, Cecil, formulates a plan in which the destabilising Mary will live under guard with his faithful friend, Bess of Hardwick. Bess is a remarkable woman herself; someone who has forged her own destiny, and is now in her fourth marriage, to the distinguished Earl of Shrewsbury. But soon Bess and Mary find themselves plunged into very different personal crises - with Bess's marriage under considerable strain.
I liked this book it was about something i didn't know alot about going into, i could tell you all the kings and queens from William the Conqueror of by heart but Scottish royalty i know nothing about so it was intriguing to read this and even though some what diluted you can still see the Tudor fire in the Scottish queen.
Mary who is at the centre of a plot having been run out of Scotland and now a prisoner in England life is not at its best for Mary. who like all royalty prisoners want to make sure she stays alive so when she disobeys Elizabeth what else is she to do to the threat to her crown. This is the tale of two cousins who are both fighting to stay in power but England is not big enough for two queens so one has to go.
The Taming of The Queen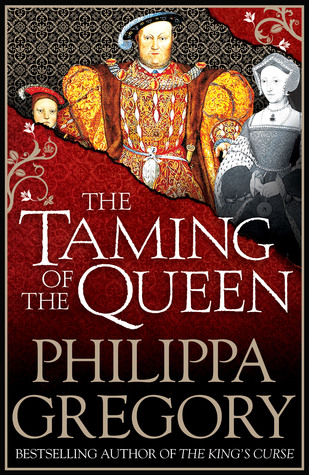 Release Date - 13th August 2015
Synopsis -
Why would a woman marry a serial killer?

Because she cannot refuse...

Kateryn Parr, a thirty-year-old widow in a secret affair with a new lover, has no choice when a man old enough to be her father who has buried four wives – King Henry VIII – commands her to marry him.

Kateryn has no doubt about the danger she faces: the previous queen lasted sixteen months, the one before barely half a year. But Henry adores his new bride and Kateryn's trust in him grows as she unites the royal family, creates a radical study circle at the heart of the court, and rules the kingdom as regent.

But is this enough to keep her safe? A leader of religious reform and a published author, Kateryn stands out as an independent woman with a mind of her own. But she cannot save the Protestants, under threat for their faith, and Henry's dangerous gaze turns on her.The traditional churchmen and rivals for power accuse her of heresy - the punishment is death by fire and the king's name is on the warrant...

From an author who has described all of Henry's queens comes a deeply intimate portrayal of the last: a woman who longed for passion, power and education at the court of a medieval killer.
Review coming soon
Until Next Time
Happy Reading
Peyton