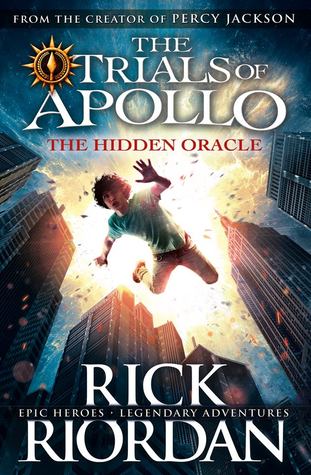 Title
-
The Hidden Oracle
Author
-
Rick Riordan
Series
-
The Trials of Apollo #1
ISBN
-
9780141363912
Genre
-
YA > Mythology
My Copy
-
Purchased
Format
-
Hardback
Where You Can Find It
-
Goodreads - Waterstones - Barnes & Noble - Book Depository - Amazon UK - Amazon US
Apollo has been cast down from Olympus by his Father Zeus, and woke up in a New York dumpster, with some help from a certain Demi God, he gets to Camp Half Blood. But things aren't very good at CHB since Campers are going missing and so are the Oracles.
Apollo knows the only way to become a God again he will have to do some trails and Quests but if he fails 'The Beast' will control the future and Apollo will be stuck as a teenage boy forever.
I was extremely excited when i first heard about this book, and i couldn't wait to jump back into the Percy Jackson universe and the fact it was a different style of main character, and if you have read anything about this book that is something a lot of people don't like but i will talk more about that when i get to the characters, but it was such an enjoyable, laugh out loud book. honestly i hate when people class this as a children's. / YA book because it can be enjoyed by all ages.
The Story was good it flowed perfectly was funny and had everything that we love about the Percy Jackson Series' but in a book about a God instead of a Demi God, and you also have the Beast and also his accomplices, then you have Apollo and his side kicks Meg, Will, Nico, Kayla and Austin. This is set in the same time that Magnus Chase is set so Annabeth isn't in this book, but Sally is and she makes Apollo some blue cookies and they have a blue car it just brought a huge smile to my face.
Character wise, Nico and Will are adorable, but Apollo was an annoyance at times i mean i know hes a God and he has has everything his way all his life but he was so self centred and at times difficult to read, but then at the same time his character does develop and he is a lot easier to read but i did not see that twist coming at all and i normally do.
I read this book in one sitting it had an amazing plot that had me laughing out loud and wanting more it was at times comedy genius and one of the Percy Jackson Books currently out.