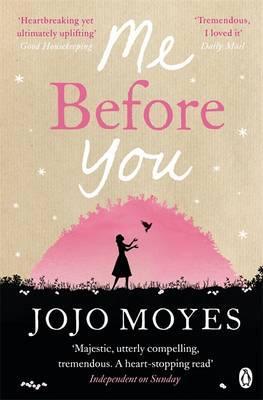 Title
-
Me Before You
Author
-
JoJo Moyes
ISBN
-
9780718157838
Genre
-
Adult > Contemporary > Romance
My Copy
-
Purchased
Format
-
Paperback
Where You Can Find It
-
Goodreads - Waterstones - Barnes & Noble - Book Depository - Amazon UK - Amazon US
Lou Clark knows lots of things. She knows how many footsteps there are between the bus stop and home. She knows she likes working in The Buttered Bun tea shop and she knows she might not love her boyfriend Patrick.

What Lou doesn't know is she's about to lose her job or that knowing what's coming is what keeps her sane.

Will Traynor knows his motorcycle accident took away his desire to live. He knows everything feels very small and rather joyless now and he knows exactly how he's going to put a stop to that.

What Will doesn't know is that Lou is about to burst into his world in a riot of colour. And neither of them knows they're going to change the other for all time.
First here is a list of things you need to read this book
A Box of Tissues
Someone to cry to
Somewhere you can hysterically cry in private
I loved this book i heard about it in around 2013 and someone from my mum's work said what a good book it was and i forgot about it, but then the trailer came out earlier this year i had to read it. It was such a good book and it had me laughing and crying and it was an emotional roller coaster one that i will gladly read again and again.
This isn't your typical love story this is about two people trying to save each other and making them choose to live a life that they never could have dreamed. The characters in this book were phenomenal none of them were useless all of them had a purpose to the story from Wills Parents to the community on the Internet that Lou turns to for help, the writing was also one of the best things about this book it draws you in so much i read this book in one sitting and for a moment lets talk about character development, there is a lot of that in this book we see Lou who is encouraged by Will to do great things and by the end of the book she is finally taking his advice and we see Will who goes from this very sad and miserable guy to this fun loving and charming guy and it is so good to see this and you do see it all, all the good the bad and the ugly.
My biggest warning is have a box of tissues with you i went through quite a few tissues during this book and i also just wanted to curl up and eat ice cream after it, it was such a good book and it was worth all of the pain it caused me and i cannot wait to see the movie adaptation .....