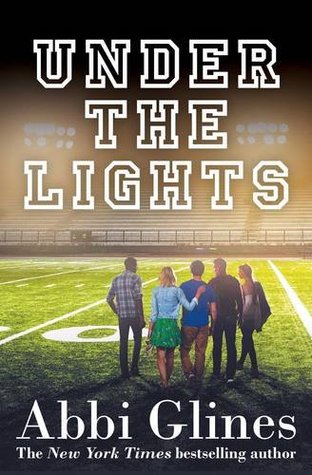 Title -
Under The Lights
Author -
Abbi Glines
Series -
The Field Party Series #2
ISBN -
9781471125041
Genre -
YA > Contemporary
My Copy -
Purchased
Format -
Kindle
Where You Can Find It -
Goodreads - Waterstones - Barnes & Noble - Indigo - Book Depository - Amazon UK - Amazon US
Willa can't erase the bad decisions of her past that led her down the path she's on now. But she can fight for forgiveness from her family. And she can protect herself by refusing to let anyone else get close to her.
High school quarterback and town golden boy Brady used to be the best of friends with Willa—she even had a crush on him when they were kids. But that's all changed now: her life choices have made her a different person from the girl he used to know.
Gunner used to be friends with Willa and Brady, too. He too is larger than life and a high school football star—not to mention that his family basically owns the town of Lawton. He loves his life, and doesn't care about anyone except himself. But Willa is the exception—and he understands the girl she's become in a way no one else can.
As secrets come to light and hearts are broken, these former childhood friends must face the truth about growing up and falling in love…even if it means losing each other forever.
I actually have two copies of this book i ended up buying this book on my kindle and had the physical book on pre order but that came on the Thursday but i read it on my kindle on the Tuesday. Confused yet, so am i. I am glad i brought this on my kindle because it meant i could read it when it came out and i was so looking forward to this book, but it wasn't as good as the first, this one had a lot more family drama and craziness.
The story in Under The Lights is very different from the first this one was more drama related than the first one which was more about healing and loss, I'm not saying this story is worse because of that but i am saying it doesn't hold up for me emotionally where the first book hit me so hard this was a lot like other YA Contemporaries.
The story flowed well, and it was an extremely enjoyable read one that i devoured in one sitting. I also hope we have seen something for the future because i am 100% sure Riley is going to have a book and hopefully its the next book because i just cant wait to hear her story.
This was a little bit of a love triangle and i have really gone off those, but the characters in the Love triangle Willa, Brady, and Gunner and then we also have Nanna and all of the supporting characters who bring so much be it bad or good every character brought something to the book and that is one thing i love about Glines' books the characters always make the book 10 times better.
I cant wait for the next book, i am guessing it will be out next August since so far both books have been released in August of successive years. and i really hope its about Riley and someone that i cant say because it will spoil the book, but i think that one will definitely go back to the emotional stuff.
Until Next Time
Happy Reading