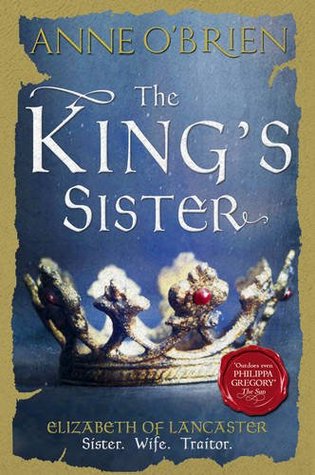 Title -
The Kings Sister
Author -
Anne O'Brien
ISBN -
978-1-848-45366-1
My Copy -
Purchased
Where You Can Find It -
Waterstones - Goodreads - Book Depository - Amazon UK - Amazon US
The King's Sister is set in England in the 14th Century we meet a 17 year old Elizabeth Plantagenet, who just found out she is to marry a 8 year old boy,Johnty, who is like an annoying little brother than the man she wanted to marry. As the years go on she yearns for the touch of a man she finally gives in to that desire with John the King, her cousins, Half Brother, her marriage to Johnty must end because she is pregnant and since Johnty is only 14 and the marriage hasn't been consummated its clear who the father is.
But things get complicated over 10 years later when Elizabeth's brother decides to usurp the current King, their cousin Richard II. When he succeeds and John chooses his brother Richard. Elizabeth must make a choice of her own Family or Love, to defy the King & betray her family or condemn her husband and send him to his death.
Now don't get me wrong, I loved this book but in the beginning Elizabeth was a whiny little brat, but then again if i was 17 and told i had to marry an 8 year old boy i would be pretty angry and whiny as well so i probably should judge but it was just annoying to read. John is definitely an Anti Hero but he was a hero he loved Elizabeth & his family after all it was the love he held for his brother that ultimately sealed his fate.
I read some review that said Elizabeth had too much sexuality for the time period and yes she was Wanton & all she thought about was a mans touch but then we will never know what woman were actually like behind closed doors back then they could have been wanton and sex crazed instead of the pious soft women they are

usually

portrayed as. My only problem with this characterisation is that she was sometimes portrayed as a woman who could not control her hormones when it came to a man who showed her any attention.

Elizabeth's choice whether to condemn her husband or brother didn't really matter to me because no one will ever agree on if she did the right thing personally this book was her struggle between her desire her love for her her husband and her love for her family and her struggle to choose.
Overall i loved this book, i was not planning on reading it but I'm so glad i did it was an amazing historical read and i cannot wait to read more novels from this Author.