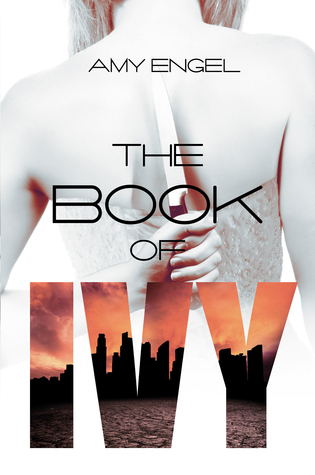 Title
-
The Book of Ivy
Author
-
Amy Engel
Series
-
The Book of Ivy Duology #1
ISBN
-
9781622664658
Genre
-
YA > Dystopian
My Copy
-
Purchased
Format
-
Kindle
Where You Can Find It
-
Goodreads - Waterstones - Barnes & Noble - Book Depository - Amazon UK - Amazon US
After a war and now a plague that allows only "young" people to conceive a marriage law is in place, now at 16 Ivy Westfall must marry but she isn't marrying someone who is her "perfect match" like everyone else she is marrying the President's son Bishop Lattimer. All because she is a decedent from the Founder of their town (Westfall) and also the granddaughter of the leader in the loser side of the war, so she must marry him so that their families can be united and another civil war will not brake out.
Ivy only has one objective to avenge her mother and make her father the ruler like he and her grandfather were meant to be, but one thing stands in her way Bishop. He is different than she imagined he is kind and caring, will she go through what her family have had planned for years or will Bishop worm his way into her heart. Ivy will have to choose Family or Love? Who will she protect? if she can only choose one?
I demolished this book, i read it in a couple of hours once i started i couldn't stop and i really want to read the conclusion to this duology but i have deviated from my TBR enough this month so i will be reading it next month. I first heard about this book back in 2014 from Kassidy Voinche on YouTube and i really liked the sound of it but then i forgot about it, so when i saw it in the kindle store i brought it straight away. i am so glad i did probably one of my favourite dystopians that i have read.
I rarely read Dystopian anymore since they always have the same story line but this was different i hadn't heard a book like it in the Dystopian Genre (if you have comment down below) and it wasn't as predictable as i thought it was going to be i was still shocked at some parts that i thought i knew what was going to happen and the complete opposite happened. Ivy and Bishop's relationship was one i very quickly shipped even though they didn't even ship themselves, it seemed at every corner there was someone "bad" trying to ruin everything from Ivy's Family to Bishop's Mother and at times it seemed like there was only 4 characters in the entire book that had their head screwed on right.
I loved The Book of Ivy and Amy Engel's writing style, i cannot wait to read more from this author.